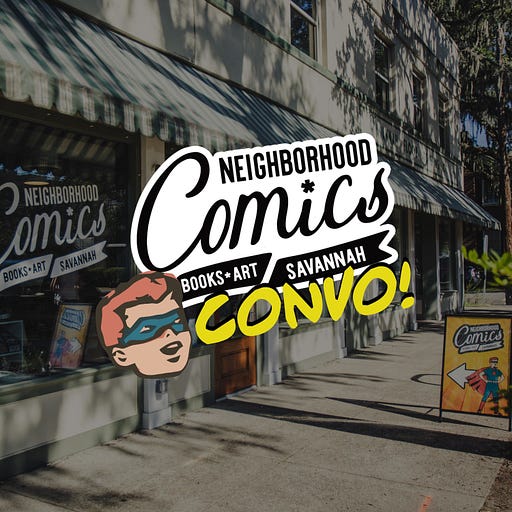 Apr 25, 2021 • 56M
Artist Meredith Laxton: MPLS Sound
Neighborhood Comics Convo is a podcast about comic books. Recorded in Savannah, GA at the LCS Neighborhood Comics, we talk with creators, fans, industry insiders and the like. We delve into our guests' origin stories, revisit favorite books and peek behind the curtain on what it's like to run a comic book store. Support this podcast: <a href="https://anchor.fm/nbrhdcomics/support" rel="payment">https://anchor.fm/nbrhdcomics/support</a>
Join us to discuss the new graphic novel MPLS Sound with artist Meredith Laxton!
MPLS Sound is in stock now and available SIGNED from our web store. 
If you're the video-watching type, you can watch this episode in full on our Facebook or Youtube channels.
Book synopsis: 
Theresa Booker was hardly the first singer-songwriter to be inspired by His Royal Badness-but she was the most determined. Minneapolis, 1982. Dozens of young bands, playing day and night in bars and clubs across the city, dream of being noticed by the musical genius Prince, revered as a guru and a powerbroker. But when Theresa and her band, Starchild, are offered the opportunity of a lifetime-to be taken in and mentored by their idol-they soon find that there's a dark side to fame and fortune that could turn their dream into a nightmare. MPLS Sound is the ultimate love letter to the legendary Minneapolis funk-rock sound of the 1980s.
Thanks as always for listening. Be sure to follow us @NBRHDComics on all social media platforms and subscribe to the podcast so you never miss an episode.
If you'd like to support the show, the easiest way to do that is buy something! Stop in at our shop at 1205 Bull St in Savannah, or shop online at neighborhoodcomics.com. We ship worldwide.
--- This episode is sponsored by · Anchor: The easiest way to make a podcast. https://anchor.fm/app --- Send in a voice message: https://anchor.fm/nbrhdcomics/message Support this podcast: https://anchor.fm/nbrhdcomics/support